Welcome to H Town Limo Bus!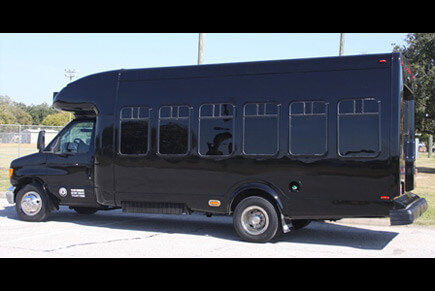 This intimately sized vehicle is the perfect vehicle for your small gatherings.
Details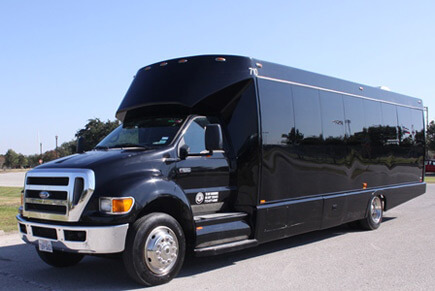 The only thing missing is you and your guests, so call us today and reserve this popular bus!
Details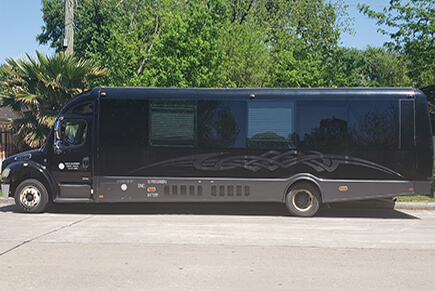 Enter the showstopper- Step on board and enjoy your party.
Details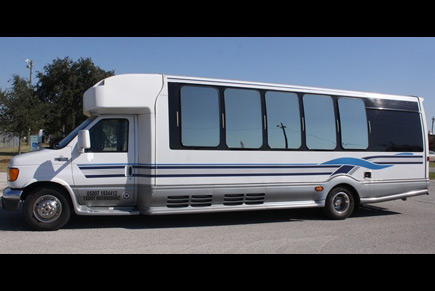 Built with a dedicated bar and tabletop she was created to host your event!
Details
---
It is our pleasure to welcome you to Houston Limo Bus. If you're looking for the greatest provider of luxury transportation in Houston, and indeed all of Texas, then you have absolutely come to the right place. When you're in the vicinity, whether for business, for leisure, or if you're a resident, you won't find anywhere else that offers luxury transportation services with vehicles as stylish as ours!
We know that when you're trying planning any type of celebration or group outing, figuring out the transportation can be a real nightmare to deal with. This is especially true if you anticipate a large amount of people being in attendance, or using a multitude of different venues and attractions. Between rush hour traffic, or just event traffic (such as Cavaliers games or concerts), trying to find a parking space, and the unenviable task of assigning the designated driver (or drivers if you're carpooling a large group), it's certainly a task that quickly becomes a headache. Luckily, you can avoid all stress by calling us to provide the transportation! By renting one of our vehicles, you will be able to experience the greater Houston area in the most classy and stylish way possible. No matter what type of celebration you have planned, we're more than willing to accommodate!
We are proud to present to you our incredible fleet of luxurious Houston party buses and limousines! The vehicles in our fleet are designed exclusively for our company, and are made with the most state of the art features and posh designs. Each one is fully equipped with the best and most impressive list of amenities, including premium sound systems, flat screen televisions, dance poles, colorful lighting, and bar stations with coolers that can store whatever drinks you would like. (This means that it is indeed completely legal to drink on board the vehicles!) Not only will you enjoy all these fun features, but you'll love the gorgeous designs!
While we pride ourselves on our amazing fleet, we know that great vehicles won't get far with great drivers!You will be delighted that our chauffeurs are very highly-trained and they are more than happy to provide you and your whole party with the most professional and courteous service possible. They know all of the best local bars, restaurants, and venues in the greater Houston area so you can be sure that you will make it whatever destination that you desire in a timely (and luxurious) fashion with us!
So when you are planning your next trip for a party or event in Houston or any of the surrounding cities, you can know that the transportation is best left to the professionals! We are here to provide you with the most quality transportation service around and we are guaranteed to exceed every single one of your expectations! We take the time and effort that you desire to make sure that every thing about our service is up to standards. We have full time mechanics who spend their entire week making sure that our buses are safe and well maintained, and constantly being upgraded to suit your needs. You absolutely can not go wrong with renting one of our posh Houston limousines!
Whether you are a group of two people or forty people, then you can rest assured that H Town Limo Bus is the choice for you! So check out our service area page, our fleet page, our event pages, and so on to get a real sense of the service that we provide. If you have any questions or want to start setting up your rental, just give us a call and speak with one of our well-trained customer service representatives. When you call for a quote, we will need a few details from you to pin-point the best vehicle and it's price. However, if you're unsure of a detail or two, we can still help - for example, if you know you want to celebrate your birthday with 27 friends but you're undecided on hitting the town on a Friday or Saturday, we can give you the pricing for available vehicles on both dates. Whatever it is, we always look forward to helping!
We here at H Town Limo Bus love our customers and we show it with the dedicated service that we provide, and once you contact us and use our service you will see that we are truly unlike any service that you have ever used before. The sky is truly the limit when you are with Party Bus Houston!